"Cody composes, arranges and provides 10 minutes of original music to fit the style of a different story each week. His music blows me away every time, even down to dynamics, crescendos and the wide range of styles. He has a vast knowledge of composition and always brings music to fit the exact mood."
​- Hayden Lee, Travel Stories Podcast

"[Cody]

produced a

couple of short scores to showcase his talents for me to review. I knew

right away that he got it. When the time came to produce our first short

based on Acid Reign, I immediately reached out to Cody, because of his

talent, and because of his passion for our project. In his efforts and

execution, he did not disappoint. He and I worked tirelessly through

several nights to meet our stringent deadline. His positive, can do

attitude, mixed with his explicit talent made all the difference in our

project. And as a result of his hard work, our short film was nominated




for best original score at the Red Giant Film Festival. I'd definitely




encourage anyone to work with Cody, and look forward to working with him

again.

​- Nathan Riddle, "Enter the Fringe"
Powered by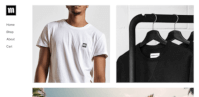 Create your own unique website with customizable templates.