It's not just for Tide Pods anymore! YouTube has a lot of professional, full-time creators, and they all need music! I've been there. I've written music for channels of all sizes, and my music has been heard by millions of people.
Literally.
Due to a YouTube feature called
Content ID
, getting custom-made or royalty free music is more important than ever. Entire channels have been shut down due to using music they don't own, and that's where I come in.
In other words, are you looking for "music that sounds like the
Stranger Things
theme but ISN'T the
Stranger Things
theme but also REMINDS people of the
Stranger Things
theme"? Perfect.
Let's get in touch.
Powered by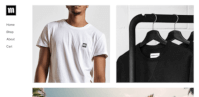 Create your own unique website with customizable templates.