---

I've got my own podcast!

Rachel Robison and I get together to talk about problems creative professionals face--from networking to the dreaded "What's your backup plan?" question we get at holidays, we chat about what inspires us and pushes us forward.

We're not doing it alone though! We bring on some insanely talented people to get their insight. Guests include Luke Millhouse and Kenny Maness with dozens more on the way. You'll hear from fashion designers, composers, music producers, painters, dancers, and much more. Make sure to subscribe on iTunes (or wherever you listen to podcasts)!
Powered by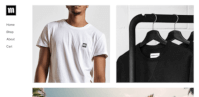 Create your own unique website with customizable templates.